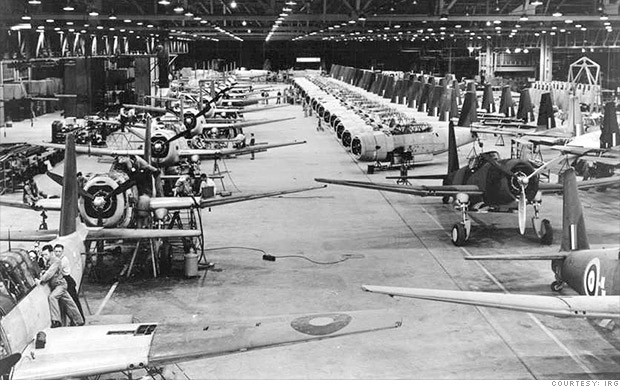 The past two decades have been brutal for American manufacturing as companies shifted production overseas and introduced high-tech systems that eliminated jobs. Many of these once-thriving hubs have been idle for years, but that's starting to change.
"Demand for closed factories has picked up since the recession," said Stuart Lichter, president of Industrial Realty Group, which works with defunct commercial property. This resurgence is largely triggered by U.S. companies bringing production back home. There has also been a boom in international firms, especially from China, shifting production to the U.S. as a way to grow their business and cut costs. There are thousands of closed factories, industrial plants and military bases that are prime candidates for redevelopment, Lichter said. Here are some that have been revived.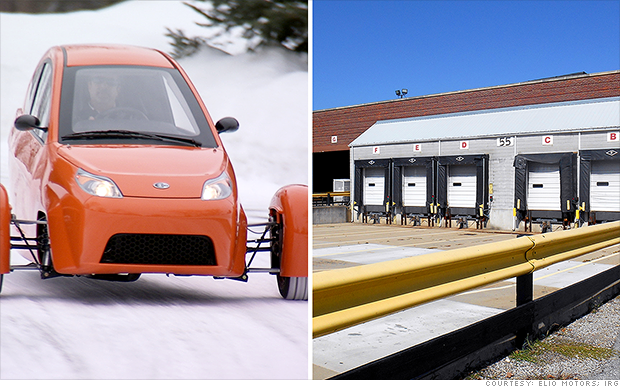 Location

: Shreveport, La.
When General Motors closed its Shreveport, La., plant in 2012 as part of its bankruptcy restructuring, it eliminated nearly 1,000 jobs.
A year later, auto start-up Elio Motors took over almost half of the plant's 4 million square feet to manufacture its three-wheel cars.
"The plant was in great condition and all of GM's machinery was still there for reuse," said IRG's Lichter.
Elio, based in Troy, Mich., expects to begin commercial production of its $6,800 car in 2015, producing as many as 250,000 vehicles a year at the plant.
"It's been good for us and good for Shreveport," said Paul Elio, founder of Elio Motors, who said the company plans to hire 1,500 workers by the time production is in full swing.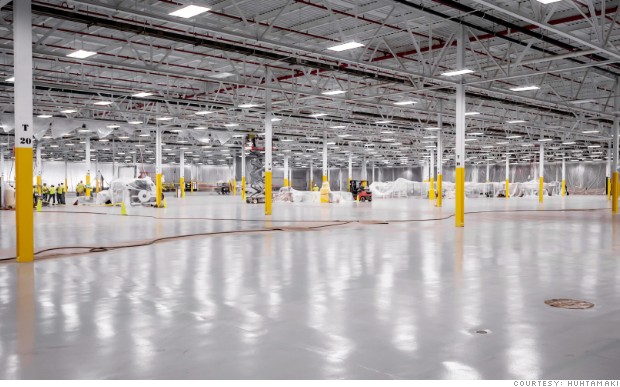 A Ford (F, Fortune 500) transmission plant that closed in 2008 got a new lease on life after a Finnish company bought half of the space last year.  Huhtamaki, which makes paper products, acquired 900,000 square feet, making it the company's biggest manufacturing facility in the world, said spokesman Wess Hudelson.  Hudelson said the U.S. is Huhtamaki's largest market, and the Batavia location lets them "reach two-thirds of the U.S. within a day's drive." roduction is already up and running. "We've added 150 local jobs and expect to reach 225 new jobs by the end of the year," said Hudelson.  Lichter said IRG, which sold the space to Huhtamaki, has added other tenants for the rest of thespace, including an aluminum scrap processor and a manufacturer of mobile communications systems.  The plant also houses a nursing program affiliated with the University of Cincinnati-Clermont.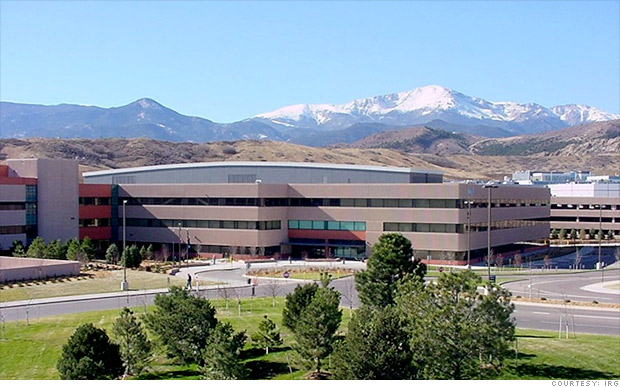 Location

: Colorado Springs, Colo.
Intel's (INTC, Fortune 500) 1,000-person plant in Colorado Springs shut down in 2007 after the company moved chip production overseas.  "When Intel shut the plant, it left a huge hole," said Tammy Fields, senior vice president with Colorado Springs Regional Business Alliance.  IRG bought the eight-year-old plant in 2009. Lichter said they got a good deal for the 1 million square foot space, although he declined to disclose the price.  Today, the factory houses a plastics manufacturer, a small business development center and an administrative office for Everest University. The county has also purchased office space and a garage on the facility.  All together, these companies employ about 350 people — with a capacity for 650 — jobs that didn't exist before the site was redeveloped.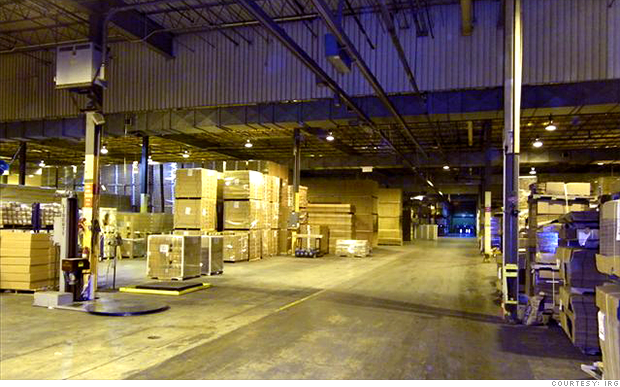 Location

: Smithfield, N.C.
Smithfield, N.C., prides itself on being a diverse manufacturing community. But that's made the last decade turbulent.  "We lost several textile companies and other product manufacturers to Mexico and China," said Chris Johnson, director of economic development with Johnston County, N.C. "This killed over 4,000 factory jobs in Smithfield and Johnston County in the 1990s."  TV antenna maker Channel Master, which had been in the area since 1982, was bought out three times before it finally exited its Smithfield factory in the mid-2000s. "This could have been another blow for the community," said Johnson.  Fortunately, Raven Antenna Systems moved in and took over 300,000 square feet of the 750,000-square-foot plant in 2009.  Johnson said it saved about 300 jobs and kept the facility from being yet another dead factory.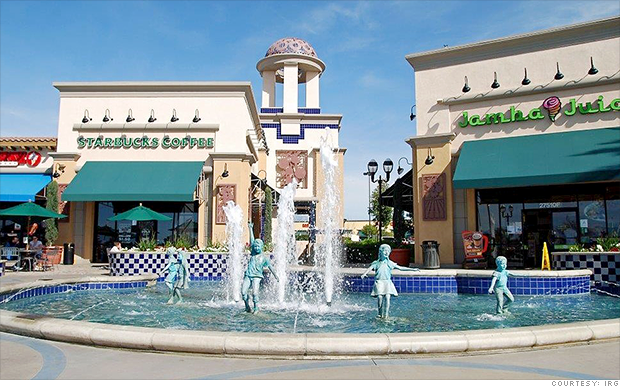 NASA's Rockwell industrial plant in Downey, Calif., was the manufacturing home for both the Apollo space program and the space shuttle program.  The nearly 1 million square food facility, which employed about 30,000 people, also tested the prototypes for missiles and military airplanes.  But 70 years of manufacturing ended when the plant closed in 1999. In 2003, the city of Downey bought it and turned part of it into a production center to support Hollywood's film industry. It also sold part of the space to Kaiser Permanente, which built a hospital on the facility.  In 2004, the IRG bought 80 acres of the property. The firm is developing a business center, retail spaces and restaurants on the facility.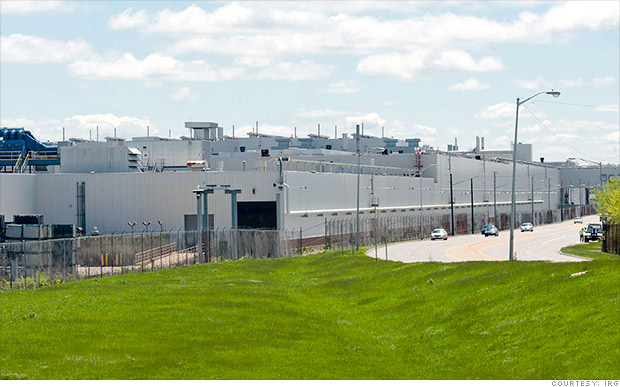 For decades, this General Motors (GM, Fortune 500) truck plant was a huge employer in Moraine, Ohio. But the facility closed in 2008 as high gas prices took a toll on sales of large vehicles, displacing thousands of jobs — both at the plant and at local suppliers.  This year, Chinese auto glass maker Fuyao closed a deal to buy part of the plant, which IRG acquired in 2011.  Fuyao's acquisition is expected to add 800 jobs over five years. In the last year, the plant has also added several other new tenants, including a diesel engine maker, a robotics company and a trucking logistics firm.  "The revival of the former GM plant is a tremendous shot in the arm for the community," said Kristie Tanner, managing director with nonprofit JobsOhio. "It's a testament to the resurgence of manufacturing in Ohio."