Paul Elio unveils first U.S. made car engine in a generation 
March 7, 2015
Michael del Castillo
Upstart Business Journal Technology & Innovation Editor
SOURCE: Upstart Business Journal
Watch Video – A Look at Elio Motors' Historic Engine
Paul Elio, the founder and CEO of Elio Motors, made history today, no matter how you look at it with the unveiling of his company's first in-house-made engine, and what looks likely to be the first U.S. made car engine in a generation.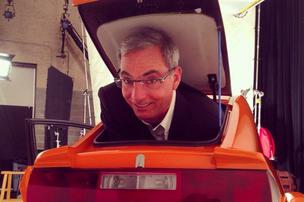 Paul Elio, founder and CEO of Elio Motors in the trunk of one of his vehicles.
The only question is whether the engineering feat will ever sit at the heart of a fleet of cars, or forever be just a prototype.
"I would say the engine is as complex or more complex than the vehicle put together," Elio told me in a phone conversation this evening. The achievement is pivotal to the company's success, because it's the last piece of the puzzle that remained to be made.
"All the other strategic content we're buying," he said. "Everything else already exists," The engine was wholly conceived and produced in the United States, and is central to his company's ability to meet its target of producing an American-made car for $6,800 or less.
Though Elio, who was recognized on this year's Upstart 100, says there isn't any new technology in the engine, several of its components, including the cylinder block, cylinder heads, CAM cover, front cover, oil pan, crankshaft, camshaft, valve train, pistons, and connecting rods, were developed specifically for Elio Motors. "There's no new technology in the engine," he said. "We just optimized every detail."
The final parts were recently machined and assembled and the prototype was started and run through several tests on a dynamometer, leading up to the announcement. Elio and its manufacturing partner Comau are expected to build the vehicle at a facility in Shreveport, Louisiana, should they ever raise the requisite capital.